Sean Michels School - Our Story
INTRODUCING THE SEAN MICHELS SCHOOL FOR SPECIAL NEEDS STUDENTS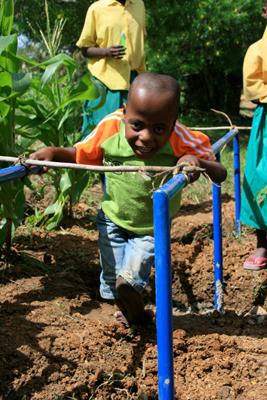 Sean Michels: In Memoriam
Every parent knows the joy and love felt when a new baby joins their home. Sean came into the world with an ever-present smile that reflected his constant joy in being part of this world. So happy was he that doctors initially misdiagnosed his condition as being "Angelman's Syndrome", also appropriately known as "Happy Baby Syndrome". Sean was never able to communicate with words, but it's amazing how much a touch or pat on the back says to another person!
Sean's perfect life continued until the age of four when seizures took over his bright smile and slowly robbed him of his "deep-belly" laugh. Following several years of declining health, Sean was called home.
The grief that a parent and family member feels for the loss of a child can't be softened or diminished, but it can be shared by special friends. When Sean departed, it was the love of those around us that helped us go on.
The Michels, Potter and Murphy families had been vacationing together for over a decade with annual trips to the Caribbean. However, after Sean passed away during one of these vacations in 2003, the purpose of our subsequent annual trips changed. Our new "service-vacations" began with trips to hospitals or homes for special needs children on Sean's birthday or the anniversary of his passing. Then, following a 2006 trip to an orphanage in Belize, bigger ideas began to emerge.
Nevertheless, we were completely surprised by a late night phone call from the Potter and Murphy families explaining that had been discussing possible projects Koins for Kenya. Since Sean had been handicapped, the idea of a school for special needs children seemed appropriate. Moreover, given Kenya's poverty, the idea of a special needs school for the handicapped had apparently never even been addressed as even the "typical kids" were mostly without proper facilities, books and teachers.
Groundbreaking and Construction at the Sean Michels School
With about $50k funding from Sean's many friends, the Sean Michels School (SMS) for Special Needs Students was completed in 2008. The SMS is the only school of its kind in southwest Kenya, and is the largest facility in the Koins for Kenya program. Initially, the school had 18 students, is now at 20, but is equipped to handle 25-30. The school has about 3,000 sq. ft., including a boy's dorm and girl's dorm, a small kitchen and serving room, a large patio and eating area and a large classroom. Subsequently, we added a water cistern, girls' and boys' separate rest rooms, and a small solar panel for about 300 watts of light in the evening.
Following our first trip to Koins in 2008, we came to understand that SMS would not be just a one-year "service vacation", but a lifetime commitment.
The SMS is now focused only on physically handicapped children. Most of our students were held out of schools for most of their lives due to the difficulty of transporting them and some social stigmas (that are quickly being overcome) against the handicapped. The focus on the physically handicapped wasn't what we originally envisioned as there were so many kids with mental disabilities, deaf kids, and the blind. However, as we recognized the very specialized needs of each of these segments, we concluded that a focus on just one group makes sense. Hence, many of the kids that originally started out in SMS two years ago have been "reassigned" (with the Kenyan government's help) to five other special needs schools.